Three years ago, my first little terror began her journey into the world. It changed everything. Before her I was a control freak. Before her I was vain. Before her I was shy and awkward. I was totally oblivious to all the little things that were to become my absolute passions in this world.
She taught me to be brave and fearless. She taught me to live with purpose and strive to live the best life I can for myself and for my family.
This little person took me away from the work I had planned on doing since I was ten years old. A vocation I spent years achieving. Instead, she has steered me on a mission to provide whole and healthy foods for my growing family and to help and inspire others on similar journeys. Oh, and she inspired me to be a great parent too, of course :)
When I was about thirteen my friends and I conducted a little survey to see what we thought each girl in the group would be doing by the time we were thirty. Everyone in the group agreed that I would become a top corporate lawyer, with no husband, and no kids - completely focused on my career. Well...I got the law degree, I got the Masters in law and I got a pretty good job…but then something clicked and my whole outlook on life changed. Nowadays I am the crunchy stay at home granola mum (that's a thing right?). And you know what...I love it. I mean, there are days when….well we don't need to get into that.
This is the first time in my life that I have truly felt fulfilled by the work that I am doing - parenting my two little beauties and helping people (I hope) to transition into their own whole food lives. I never would have made it here if I hadn't embraced the changes that were thrown my way, and I am so thankful I did.
Our whole food journey has been made up of a series of small, and incremental changes. I am a true believer that you can't go cold-turkey with this kind of thing; unless you are super woman, which, unfortunately, I am not. I whole-heartedly believe that our change has been so long-lasting because it was made in such a slow and purposeful way.
And we will keep changing. Our newest mission has been to take the leap and start growing our own food. We have a little veggie patch which is going great guns, and I hope as the years go by this will give the kids an appreciation for the food they have access to, and the effort that goes into providing such food. Currently they are 2 1/2 yo and 9 mo…so it may be a while yet before this connection is made :) Right now, we are just planting the seed.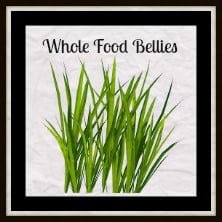 Hi I am Donna. Mom of two adorable little food monsters and wife to one big monster. For the last few years I have taken my little family on a whole food journey; and I blog about it. I share family friendly clean eating recipes, tips and tidbits about our experience along the way.
I aim to create happy people and happier bellies by encouraging people to cut out harmful processed foods from their diets and indulge instead in delicious and easy to prepare whole foods. I am a firm believer in the 80% rule; as long as we are eating well the majority of the time, a few treats here and there aren't going to hurt - i.e. if I happen to make it to Paris there's no way I am going to be missing out on fresh croissants :)
A big thanks to whole food bellies, for joining us in
Transient Tuesdays!
Next week, on Transient Tuesdays, we have
Amy
. Stay tuned to read more, scribblers!